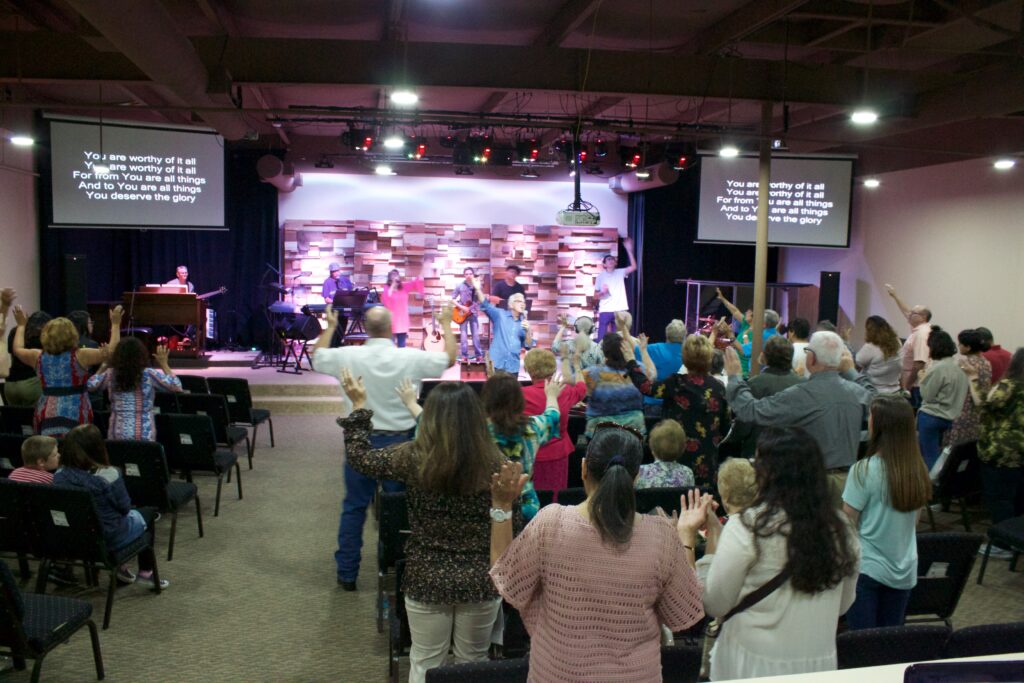 Victory is a dynamic, exciting, interdenominational church committed to reaching out to people of all nations, races, cultures, and backgrounds. Everyone is welcome! Whether healthy or sick; rich or poor; distressed or whole; single, divorced, or married; Victory cares for you whatever your need implies.
Our services incorporate exciting, heartfelt praise and worship, multi-media, and Bible-based relevant messages that will instruct and challenge you to a LIFE OF VICTORY. We want everyone from the youngest child to the oldest adult to have a genuine encounter with God and to build a relationship with Him that will last for eternity. Relationships are important at Victory, which is why we make it a priority to encourage building Christ-centered relationships that will last a lifetime. We invite you to join us this Sunday.
We look forward to seeing you!
What We Believe- Vision Statement
We believe God desires that our Vision be clear.
We have a VISION OF THE HOUSE with GOD's HEART in mind.
Habakkuk 2:2 "And the Lord answered me and said, write the vision, and make it plain upon tables, that he may run that reads it."
H -Recognize the whole world as a HARVEST field from which we reap mankind for the Kingdom of
God.
E – We are commissioned to EVANGELIZE the world. In reality we are to share the "Gospel of the
Kingdom" through every possible venue: media, home groups, crusades at home or in foreign
countries, regular services at church, and through any other source that God gives direction.
This message is to be taken to our neighborhoods, cities, counties, regions, and to others nations.
A – Tear down walls of prejudice, create a place of refuge and restoration for all who desire it, and
declare ACCEPTANCE of all, regardless of past failures, race, education, financial status, social
background, etc.
R – Encourage believers to pursue the developement of RELATIONSHIPS with God and their fellow
man, not hampered by religious tradition.
T – Teach, TRAIN, and equip believers for works of service in the Kingdom of God today.
Statement of Faith
1.The Bible We believe the Bible to be the only inspired, infallible and authoritative Word of God.
2 Timothy 3:15-17
2.The One True God Head We believe the one true God has revealed Himself as eternally self-
existing and has further revealed Himself as embodying the principles of relationship and
association as Father, Son and Holy Spirit.
3.Salvation of Man We believe man was created good and upright, but by voluntary transgression
fell. Man's only hope of redemption is through the shed blood of Jesus Christ, the Son of God.
Romans 3:24 & Romans 10:8-10
4.Water Baptism We believe water baptism by immersion should be observed by all who have
repented and believed in Christ as Savior and Lord. Matthew 28:19
5.Baptism of the Holy Spirit We believe all believers should earnestly seek the baptism of the Holy
Spirit. With it comes endowment of power the bestowment of Spiritual Gifts and their uses for the
work of the ministry and is evidenced by the initial physical signs of speaking in tongues. Acts 1:8 &
Acts 2:4
6.Sanctification We believe in sanctification as an act of separation from that which is evil, and of
dedication unto God. I Thessalonians 5:23
7.The Church We believe the church is the Body of Christ, the habitation of God through the spirit
with divine appointments for the fulfillment of the great commission. Ephesians 1:22-23
8.The Ministry We believe the divinely called and scripturally ordained ministry has been provided
by our Lord for evangelization of the world and edifying of the body of Christ.
9.Healing We believe healing from sickness is provided for in the atonement of Christ. Isaiah 53:5
10.The Second Coming We believe in the literal second coming of our Lord. His literal rule upon the earth, the resurrection of the saved unto eternal life and the unsaved to eternal damnation, and the ultimate victory of the eternal Kingdom of God. I Corinthians 15:52